Increasing e-commerce efficiency and customer satisfaction with what3words
E-Commerce
Development
Digital Marketing
Marketing
Shopify
News
Business
Entrepreneurship
Sustainability
3 Mins
what3words are solving the age-old problem of inaccurate and confusing addressing for Shopify store owners who want to improve their delivery services sustainably.
Big thanks to the what3words team for this guest post! Jennifer Christie is Senior Partnerships Lead at what3words, working in the e-commerce partnerships team.
---
Over the past year, customer behaviour has shifted with more and more UK consumers shopping online since the start of the pandemic. In an increasingly online and on-demand world, this acceleration of e-commerce is hard to ignore and it means that online retailers are constantly having to innovate and improve their strategies. In addition, recent reports from Charged Retail warn that e-commerce delivery times could double this upcoming holiday season, citing staff shortages in driver, supply chain and warehousing roles as cause for concern.
Here at what3words, our minds are focused on how these demand and supply issues are also impacted by the age-old problem of inaccurate, imprecise and confusing addressing. Street names aren't unique (how many Church Roads have you come across?), some houses aren't numbered, postcodes cover large areas, and map pins drop in the centre of buildings instead of a specific entrance. The urban landscape is constantly evolving, with streets being merged or renamed and new properties being built, but these changes often take time to be visible on maps. The result? Packages don't reach their intended destination or are delivered to the wrong address, and some people can't even make online orders because their addresses are unverifiable.
Adding what3words as a shipping option can also reduce emissions by optimising delivery journeys
How what3words is helping to improve customer experience in e-commerce and delivery
what3words has the power to give everyone a precise delivery address regardless of the local address system. It has divided the world into a grid of 3 metre squares, and has given each square a unique combination of 3 random words: a what3words address. It's a simple and accurate way to describe any location. For example, ///filled.count.soap can be used to find the front gate of the what3words London office and ///teams.update.retain is where you'll find Radiant's front door.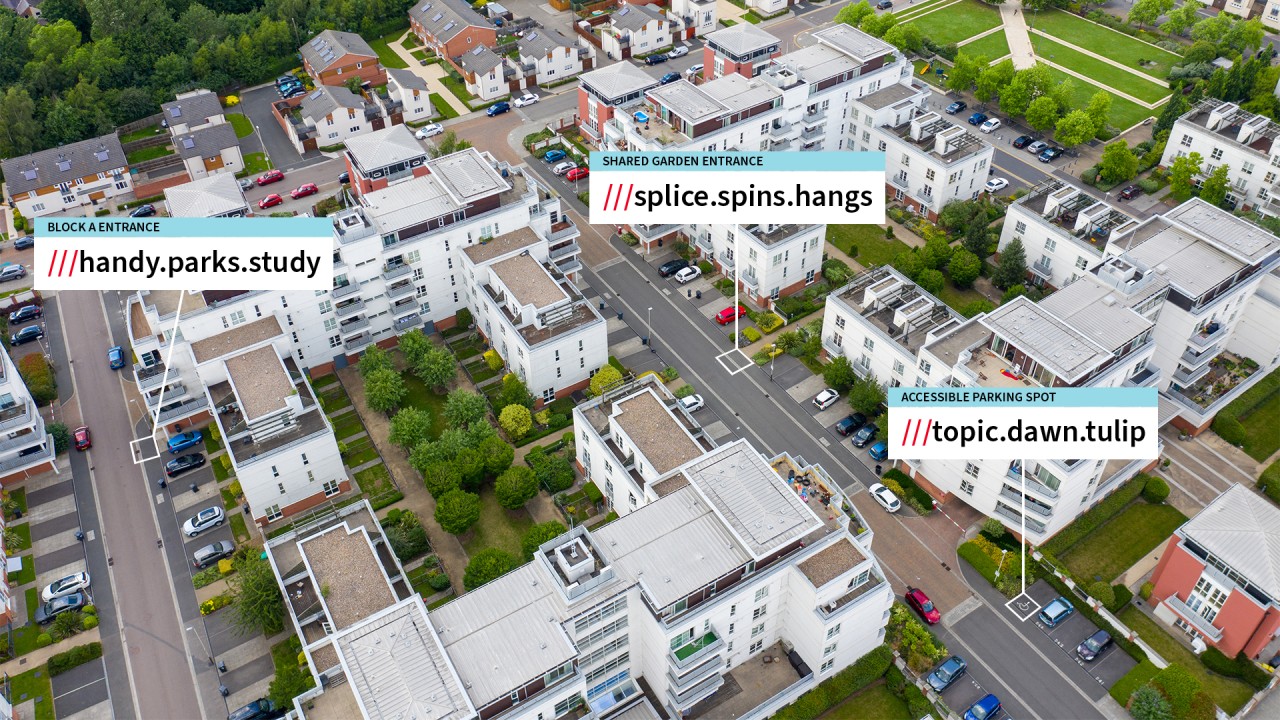 By offering a what3words address at checkout, customers can specify exactly where deliveries should arrive
What are the benefits of using what3words as an online retailer?
Improved customer satisfaction - It's easy for people to say exactly where they want their packages – a safe location for contact-free delivery for example – which reduces failed deliveries and prevents 'Where is my order?' related queries, which are inconvenient for customers and retailers.
More efficient and sustainable operations - Your packages find their destination first time every time, reducing churn, CO2 emissions, customer queries, redelivery attempts and the costs associated with them. For example, in an Aramex time trial, a driver delivering to what3words addresses travelled 22% less distance than a driver using street addresses.
Simple & flexible integration - You can add a what3words field to user Account pages, at checkout, or wherever you capture customer address information. Your customers' what3words addresses can then be passed to last-mile delivery partners.
Over the last few months, we've seen increased demand from customers, retailers and carriers to enable what3words addresses at checkout. For years, customers have organically added their what3words addresses to online order forms and delivery notes. Now, through simple and powerful integrations on retailers' online platforms, this process is easy and seamless.
We're always looking for new ways to bring sustainability solutions to our clients, and with what3words offering smoother deliveries and lower carbon emissions from more efficient routes, they are an ideal new partner for us. " - James Lane, Radiant Founder
In the e-commerce and logistics space, what3words is currently working with partners including Weezy and Hermes. You can see more here. Radiant is now a what3words partner meaning Shopify Plus clients can now enable what3words for their customers. For more information, speak to leighanne@fullfatcommerce.com or jennifer@what3words.com.