Get ready for the 2021 holiday season with these ecommerce tips
E-Commerce
Digital Marketing
Marketing
Shopify
Business
Entrepreneurship
6 Mins
Whether you're ready or not, your customers will expect something special from your ecommerce business come November. Feel like you're not ready for the pandemonium? Keep reading for a few ideas to kickstart the holiday marketing strategy for your subscription business.
This guest post is brought to you by the brilliant team at Recharge Payments - thanks for the insight, guys!
---
The 2021 holiday season can't possibly be coming this soon, can it? It's still Q1, right? Oh, wait—Black Friday and Cyber Monday are less than 40 days away?
Whether you're ready or not, your customers will expect something special from your ecommerce business come November. Feel like you're not ready for the pandemonium? Keep reading for a few ideas to kickstart the holiday marketing strategy for your subscription business.
Ecommerce holiday planning 101
Planning for the upcoming holiday season doesn't need to be stressful. However, customers do tend to expect more than a simple 5% off sale for one of the biggest weekends of the year. Consider the following strategies to implement for higher customer engagement:
Optimization is key for the upcoming holiday shopping season
The proverbial "front door" for any ecommerce brand is your website. This is the first opportunity your brand gets to show your value proposition. As your customers casually poke around your site, this is your chance to demonstrate what differentiates your products from each other, as well as from other brands' products.
To set your brand up for success, begin by establishing a baseline. Pinpoint which of your webpages receive the most traffic with regards to both total page views and organic search. From there, you'll gain a better understanding of what's working well and where you can improve.
Do you need to revamp entire sections of the website prior to BF/CM? Definitely not. But are there easy ways you can display your holiday promotions? Absolutely. For example, adding a homepage banner that advertises special deals or new holiday flavors can generate excitement about your seasonal products without interrupting the user experience.
Of course, it's also key to think beyond the homepage, as not all your site visitors will land here in their customer journey. Look at page value from an SEO perspective. For example, your customer might reach certain product detail pages through an ad on a search engine. In this case, you'll also want those pages to capture all the relevant information about your holiday deals and offers so those shoppers don't miss out on that added value.
Social media for social validation
Building up your social media presence prior to the holidays is another important, but often overlooked, aspect of your ecommerce holiday strategy. Many customers will head straight to your social pages to learn more about your products and brand. After all, there's no shortage of information that can be found on social—reviews, customer interactions, influencers, ads, discounts, new releases—and that's not even including holiday-specific campaigns.
So, how do you go about optimizing your social media presence for the holidays? One way to do this is to focus on engagement. Think about conversion rate optimization, and ways that you can incentivize a larger group of your target customers to interact with your posts. This could mean creating a contest or exclusive promotion for those who follow you on social media.
In this way, you'll encourage more shoppers to keep their eyes on your social media accounts. And, come holiday season, they'll be the first to see the exciting deals you have to offer.
Some things to keep in mind: When creating holiday-related ads for your ecommerce brand, make sure that these feel distinct from your other creative collateral. They should feel visually unique and attention-grabbing, while still maintaining your brand voice and tone. And, as always, make sure that the unique value proposition of your ads is front-and-center. Your goal is to make it clear to your customers as quickly as possible exactly what value they'll be getting from your offers.
First impressions can create a lifetime of brand loyalty
The unboxing experience is an extremely under-utilized way to market to existing customers. Why? It's the first impression many people get from your brand—not just your customers, but those who see the experience posted on social media or passed around in the customers' social circles.
But unboxing isn't just a way to boost your social media presence—it can also serve as that extra level of care that encourages your customers to continue their subscriptions, increasing lifetime value for your business. This all ties back to the power of relational commerce for subscription ecommerce businesses, and it's well-worth paying attention to for your brand.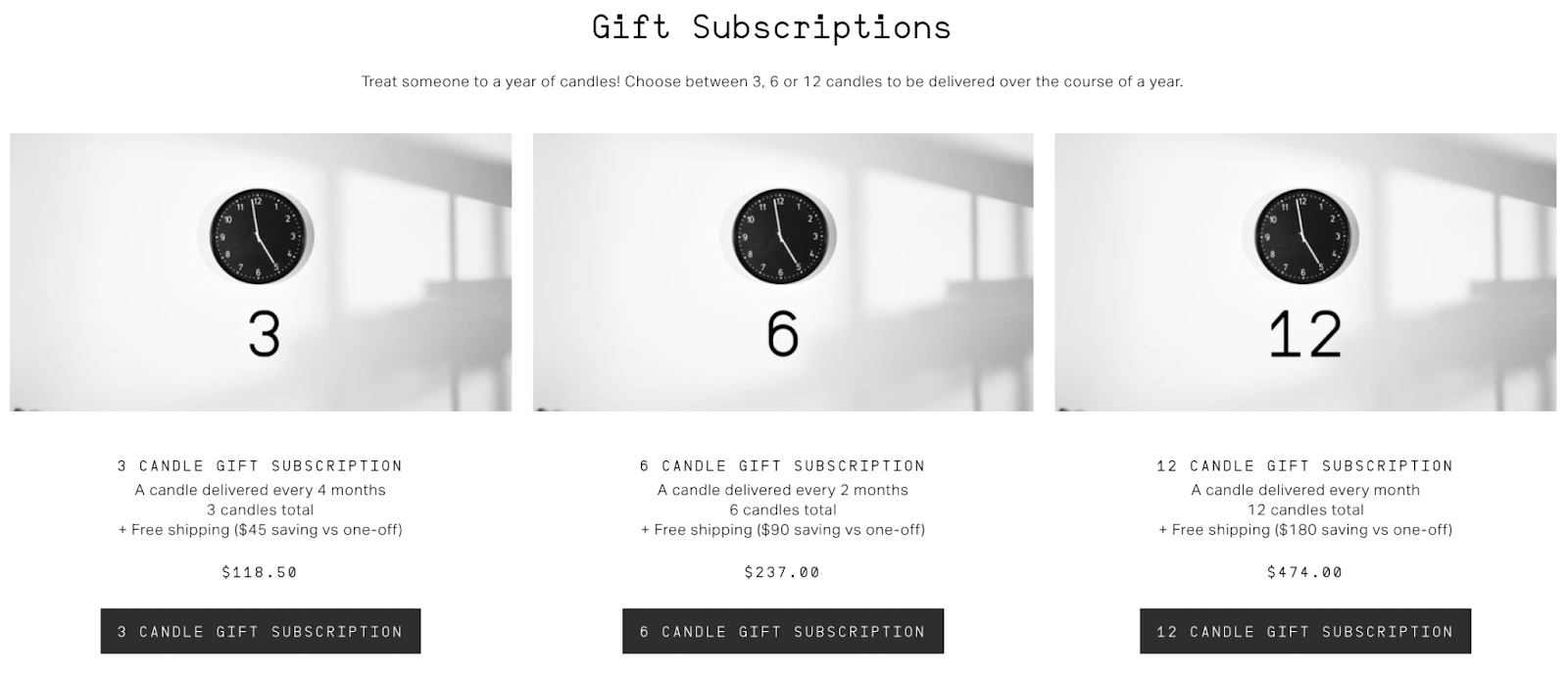 On their site, Keap Candles offers prepaid subscription gifting opportunities in intervals of three, six, and twelve months.
Keep in mind that especially around the holidays, many of your customers may be purchasing your subscriptions not for themselves, but for a loved one. This gives your brand the unique opportunity to capture the interest not only of the gift giver, but also the gift receiver. And if either of them have a positive experience with your offerings, they can become advocates for your brand through word-of-mouth validation, which can drive even more new customers to your site and increase brand loyalty.
Having a great product isn't enough to build a sustainable business, especially around the holidays when customers are shopping around for the best deal and the best experience.How your customers experience your brand will be a key driver for ongoing success. Creating a community, best-in-class customer service, clearly defined and actioned values - these are some of the things customers are looking for, and excelling in them will create a loyal customer base that will help sell your product for you. - Leighanne Phillips, Head of Commercial, Radiant
Deliver valuable holiday sales for online shopping
Most subscription businesses will give shoppers the opportunity to purchase products one at a time in addition to subscriptions. So, what sets the recurring customers apart? Generally, subscribers are motivated by the added value and convenience of recurring products—and your holiday shoppers are no different.
One way to add that value is by upselling and cross-selling. These separate yet related strategies both involve personalized product recommendations based on your customers' current purchases. But why, exactly, are these marketing strategies so important?
An upsell involves marketing personalized product upgrades to your customers for a higher price. A cross-sell, meanwhile, provides separate product recommendations to add on to customers' current orders. Not only are these powerful strategies for increasing average order value (AOV) for your brand—they also add enormous value for the customer, allowing them to receive better product matches, and/or get more out of their existing products.
You can also deliver extra holiday value in the form of free samples so your customers can try out additional products without the commitment of a purchase. Or, you can include a free gift or free gift-wrapping with a customer's first purchase—literally bringing the season of gifting full-circle.
Subscriptions and holiday shopping: a match made in heaven
At Recharge, our State of Subscription Commerce Report shows that consumers today are investing in physical subscriptions more than ever before. That makes your subscription offerings a prime area of focus for the holiday season, with the potential to draw in new customers, drive sales, and increase both brand loyalty and brand awareness.
The key to holiday success for your ecommerce brand? Planning ahead. Start developing your strategy now and watch as the results speak for themselves when the holiday season arrives.