How to choose a Shopify development company?
The most important things to look out for when choosing a Shopify developer.
Many variables need to be considered when choosing a Shopify development company. Should you choose a big agency or a local freelancer? Should you opt for the cheapest option or spend time finding one with amazing reviews?
Choosing a Shopify development company is not an easy task, and it should mostly depend on your project requirements and budget. However, don't forget about personal preferences too! After all, you will have to spend some time working with these people, so you may as well make it an enjoyable experience. Before that, you must focus on practical points, such as experience, expertise, portfolio, case studies, communication, support, and pricing structure.
Experience and expertise
To start with, check the company's experience and expertise in Shopify development. Look for a company that has a strong track record in building and maintaining Shopify stores. Read their reviews on Google and third-party websites, see how many years have they been operating and whether they have won any awards.
However, focus on what's important for your project. If the company is new but has completed several projects similar to yours, they are likely to do a great job on your project too.
Alternatively, smaller and newer companies tend to have fewer clients and a flatter company structure, which often means that most of your money will be spent directly on development and design, rather than supporting a bureaucratic hierarchy of multiple teams and members. On the other hand, larger agencies are likely to have more relevant experience in various fields due to the number of projects they handle simultaneously.
Consider your project requirements and choose a Shopify development company that has a team of experts in technical areas relevant to you, such as coding, web design, or SEO optimisation.
Portfolio & case studies
Check the company's portfolio to see if they have experience with projects similar to yours. This will provide you with an understanding of their capabilities and the quality of their work. Also, see whether you like their work!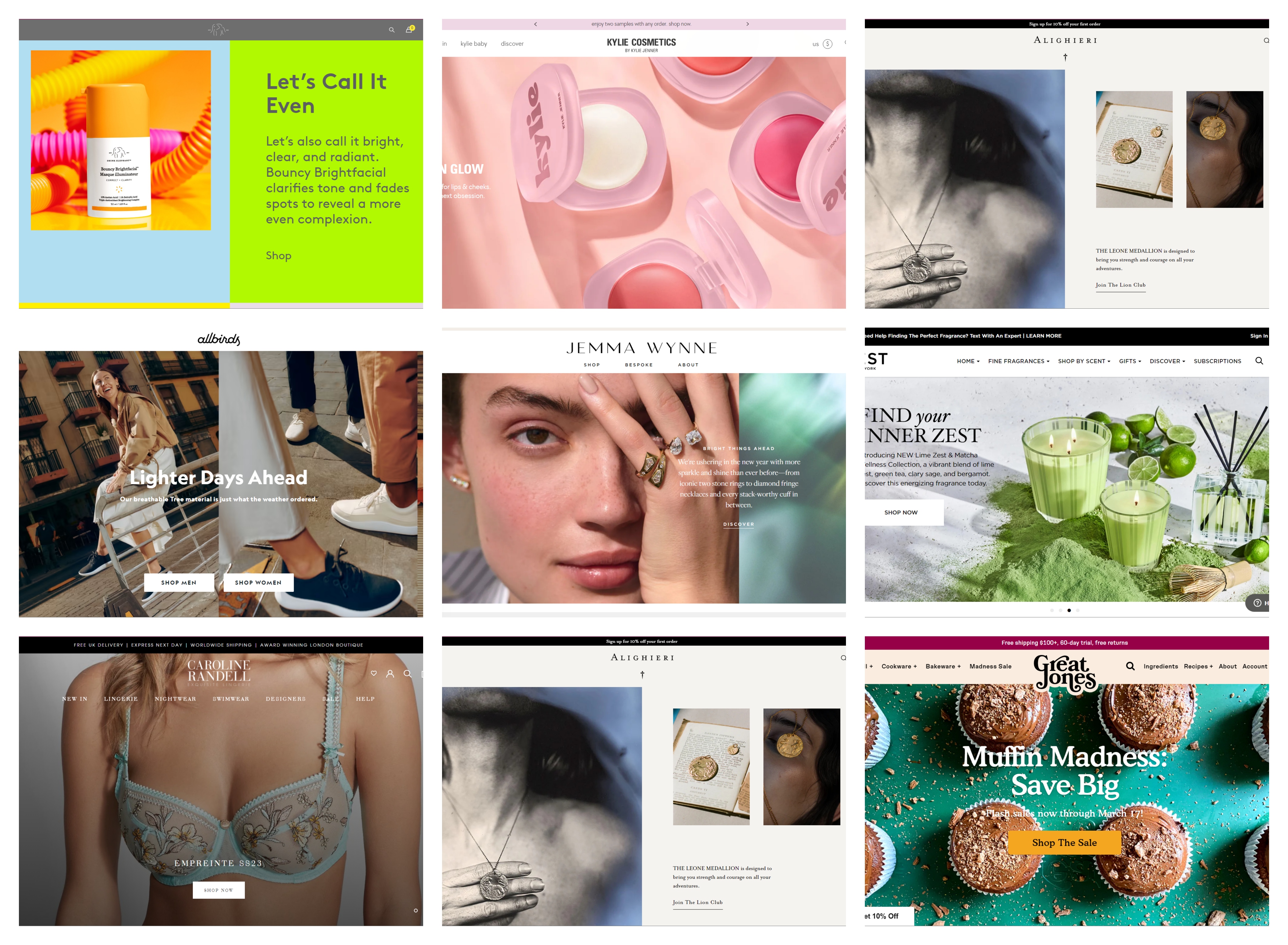 If you want to design a new Shopify website or re-design an existing one, look for the existing portfolio and the styles that the agency has produced. If you're unsure about the style you want, search for a range of styles. However, bear in mind that the portfolio displayed may not always depict all the styles that the agency is capable of producing. If you're searching for something unique, request additional examples of the work the designer has completed.
If your project requires specific technical features, such as particular integrations, product builders or stock control solutions, do not waste time looking at the portfolio. Instead, ask your questions directly. Portfolios usually present the prettiest work rather than those that had some advanced solutions incorporated. This is because showcasing an impressive design is much simpler than explaining how APIs work.
Last but not least, do not simply review the portfolio, take a look at the websites the company has built. This way, you'll be able to see firsthand whether the projects comply with industry standards, how quickly they load, and whether they're user-friendly. However, bear in mind that the website could have been significantly altered internally following the designer's release.
Communication and support
Choose a company that has a clear communication process and provides ongoing support. A good development company should be easy to get in touch with and should provide regular updates on the progress of your project. As a client, you should know exactly what's going on and when to expect the next update. For example, here at Radiant, we have a "discovery" stage, that's where we prepare a full technical scope of the project, discuss it with you and agree on deliverables and deadlines for each stage.
Prices and pricing structure
Whilst we all want to pay as little as possible, it is crucial to choose a company that can provide quality work.
Consider the company's pricing structure and whether it aligns with your budget. Some companies may charge hourly rates, while others may offer fixed-price packages. Make sure you understand what is included in each pricing option.

Be aware of any hidden costs that may arise during the project. Some companies may charge additional fees for revisions, ongoing support, or other services not included in the initial estimate.

Determine the timeframe for the project and ensure the company's pricing structure accommodates your timeline. Rush jobs may incur additional fees, so be sure to factor that into your budget.

Find out what kind of support the company offers after the project is completed. Will they be available for ongoing maintenance and updates? Is there a cost for support services?

Understand the payment terms and schedule for the project. Some companies may require a deposit upfront, while others may require payment in full upon completion.

Compare the pricing of different Shopify development companies to ensure that you are getting a fair price for the services you require. Be wary of companies that offer prices that are too good to be true, as they may be cutting corners or providing low-quality services.

When choosing an agency, ask them about their pricing structure so that there won't be any surprises later on when it comes time to pay up!
Reviews and testimonials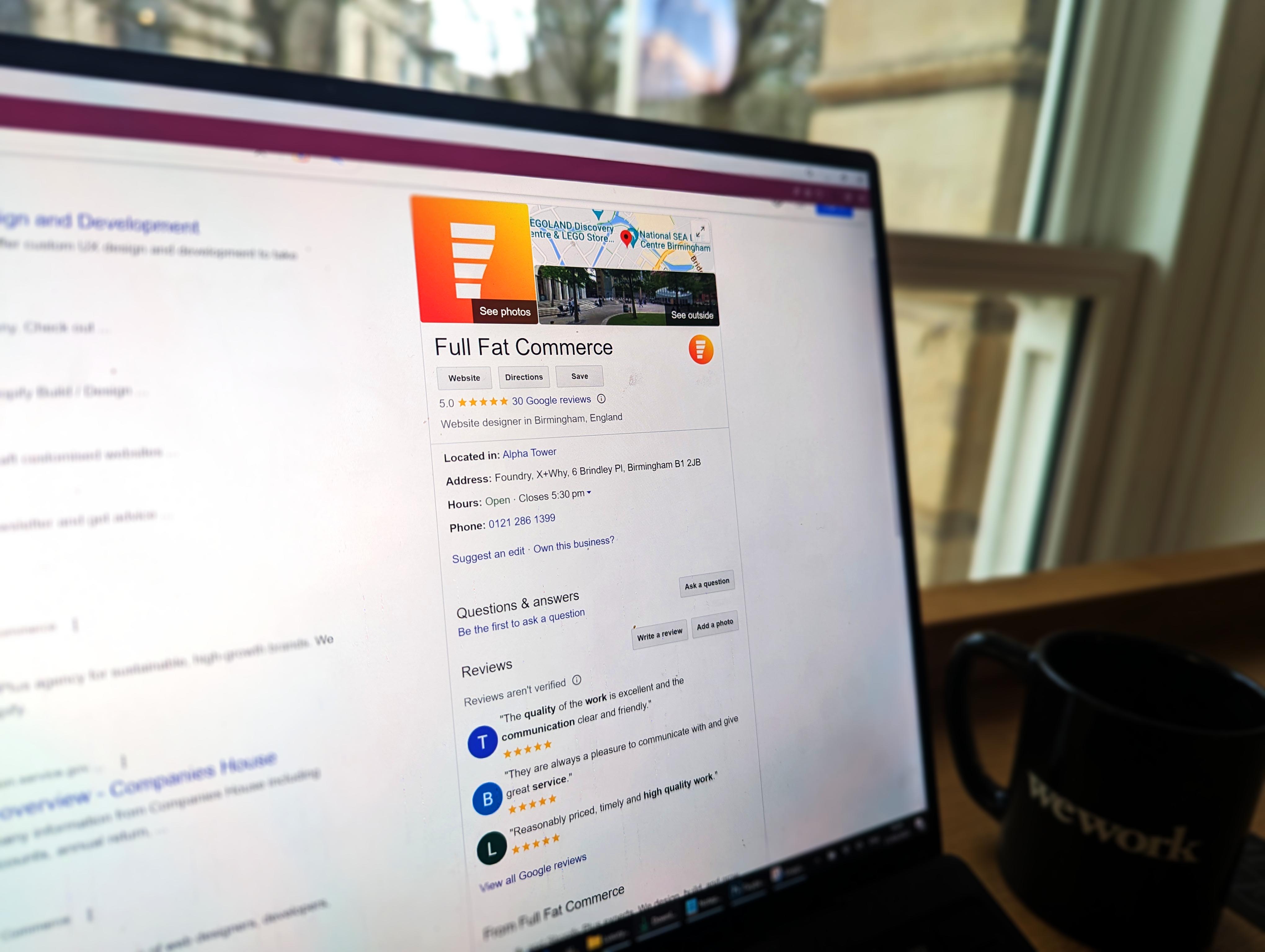 To start with, read reviews on different platforms: Google, LinkedIn and places such as Trustpilot. Look for consistency in the reviews and testimonials. Are the majority of the reviews positive or negative? Are there any patterns or trends in the feedback? This can help you get a sense of the company's overall reputation. Pay attention to the specifics of each review. Do the reviews mention specific aspects of the company's work or customer service? Do they mention any challenges or issues the customer encountered, and how the company resolved them?
Check for recent activity in the reviews and testimonials. Have there been any recent updates or changes to the company's services or products? Have there been any recent reviews or feedback that may indicate a change in the company's performance or reputation?
And more importantly, look at how the company responds to feedback, both positive and negative. Do they address any issues or concerns raised by customers? Do they take steps to improve their services or products based on feedback? A company that actively listens and responds to customer feedback can be a positive sign, even when the feedback was negative!
Your personal preferences and requirements
All projects are different and your priorities will vary depending on whether you are looking for a long-term partner, full-scale website re-development or a one-off change on your Shopify store.
It is easy to recommend going to the agency that wins many awards, has incredible feedback and testimonials and works with big global brands, however, it is likely to charge a lot and not necessarily would be the best one for YOUR needs. Think of what's important for your project and then just find someone who ticks your boxes and whom you like personally!