Client In the Spotlight: Stylish Children's Clothing Company Bundleboon to Appear on Dutch Dragons' Den
Development
Design
Shopify
News
5 Mins
Children's clothing company Bundleboon is set to make an appearance on Dutch Dragons' Den this April. Let's take a look at what makes their site so special!
A Company Redefining Children's Clothing Through Personalised Children's Outfits
Any parent is first to tell you what a difficulty it can be to dress children in the morning – especially in clothes that they'll love! Inspired by this common struggle many parents face, creators Monique Janke and Nelli Jeloudar founded Bundleboon in February of 2018. The pair had experience working with Zalando, De Bijenkotf, Pandora, and The Cloakroom, and took their skillset to form a company that makes everyday life that much easier for parents. Their goal was simple: reduce the fuss that occurs in dressing rooms and increase the fun that accompanies getting dressed each morning. Their business has parents complete an online quiz about their child's taste in fashion, and hand-picks a box of six to eight personalised articles of clothing customised to their taste. Each box is shipped right to the child's home, where everything can be tried on in comfort, and parents only pay for what they decide to keep.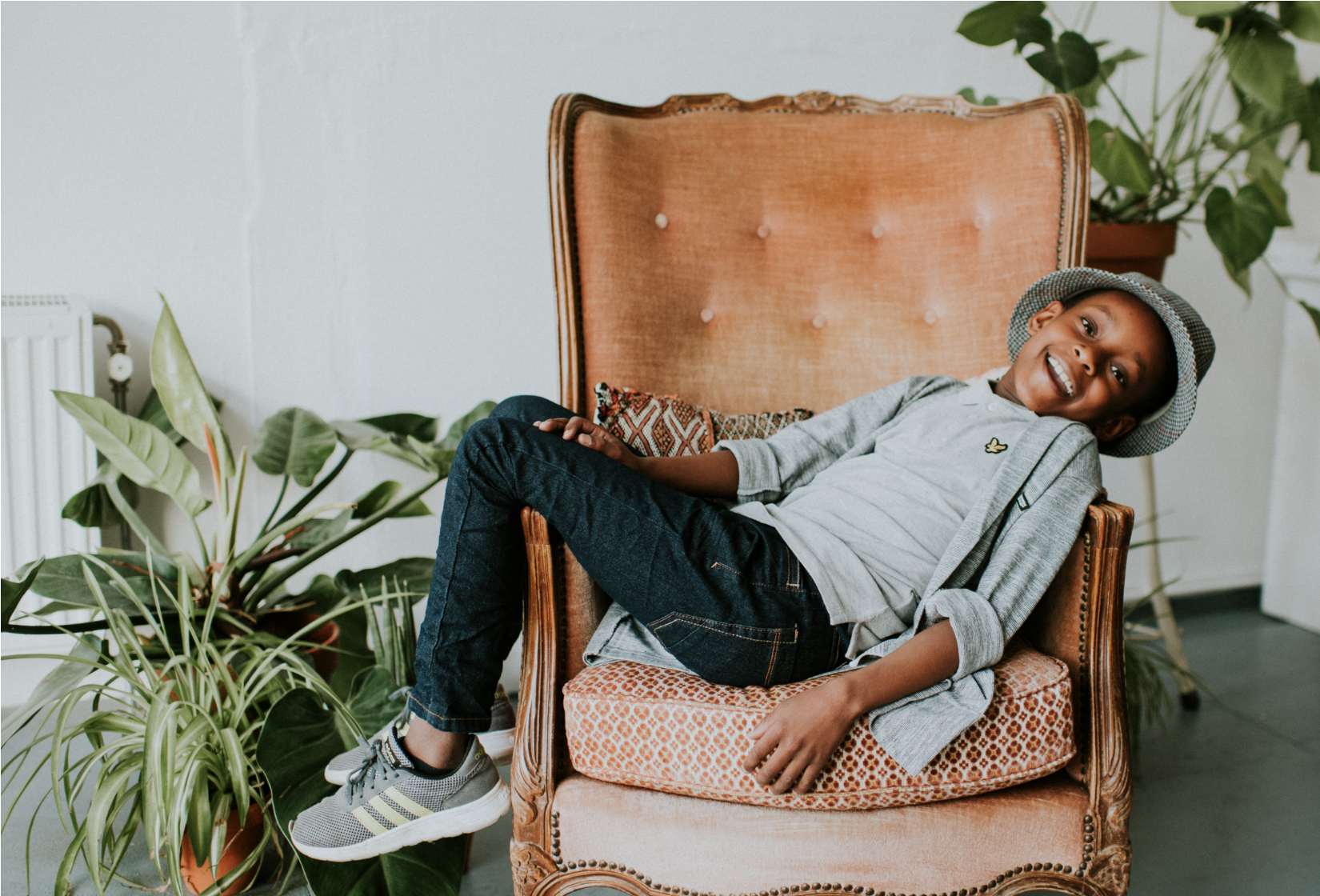 Bundleboon has grown exponentially among this new generation of parents, and has become so popular primarily through word-of-mouth advertising. However, Bundleboon is bringing their success to the next level by appearing on Dutch Dragons' Den this weekend! Today, we'll be taking a look at where Radiant helped bring Bundleboon's custom site to the next level and how their stellar online marketing has shaped their current success.
How Radiant and Bundleboon Have Worked Together
Radiant was more than honored to work alongside Bundleboon to improve their homepage and product page development. Both feature a number of design intricacies, including parallax scrolling, stop-motion scrolling, animated sketch imagery, carousel images, interactive quiz, and more!
Parallax scroll describes a method through which a user's scrolling appears layered, and some scrollable items move or scroll more quickly than others for a dynamic effect. Bundleboon's parallax scrolling is most noticeable in the pink and black patterned lines near the bottom as well as the "Stylisten met kennis" section. ("Expert Stylistist" if you're looking at the English version of the site).
Under the section detailing the boxes' contents titled "Wat is de prijs van een Bundleboon-box?" ("What is the total price of a Bundleboon box?") is a stop-motion scroll feature. When scrolling down the page, the picture first displays the box's introductory letter. As the user further scrolls, the image goes through the layers of clothes within the box. If the user decides to scroll back up, the images appear in reverse. This interactive design feature gives users the impression of opening and sorting through a Bundleboon box, just like they will upon their package's arrival!
Bundleboon's homepage has a three step process just under the hero image that details how ordering a box results in keeping only the items that you love. When first loaded, these three steps are animated in an aesthetically pleasing way that draws eyes towards the purpose and goal of Bundleboon's product.
Upon moving to the bottom of the homepage, visitors are greeted with a carousel of images featuring outfits by Bundleboon. The module automatically populates and scrolls. The movement is visually captivating, and if the user mouses over an image, a tag appears that informs them of the style being displayed. With tags like, "trendy," "classical," and "playful," people can easily see which types of clothes arrive with each box.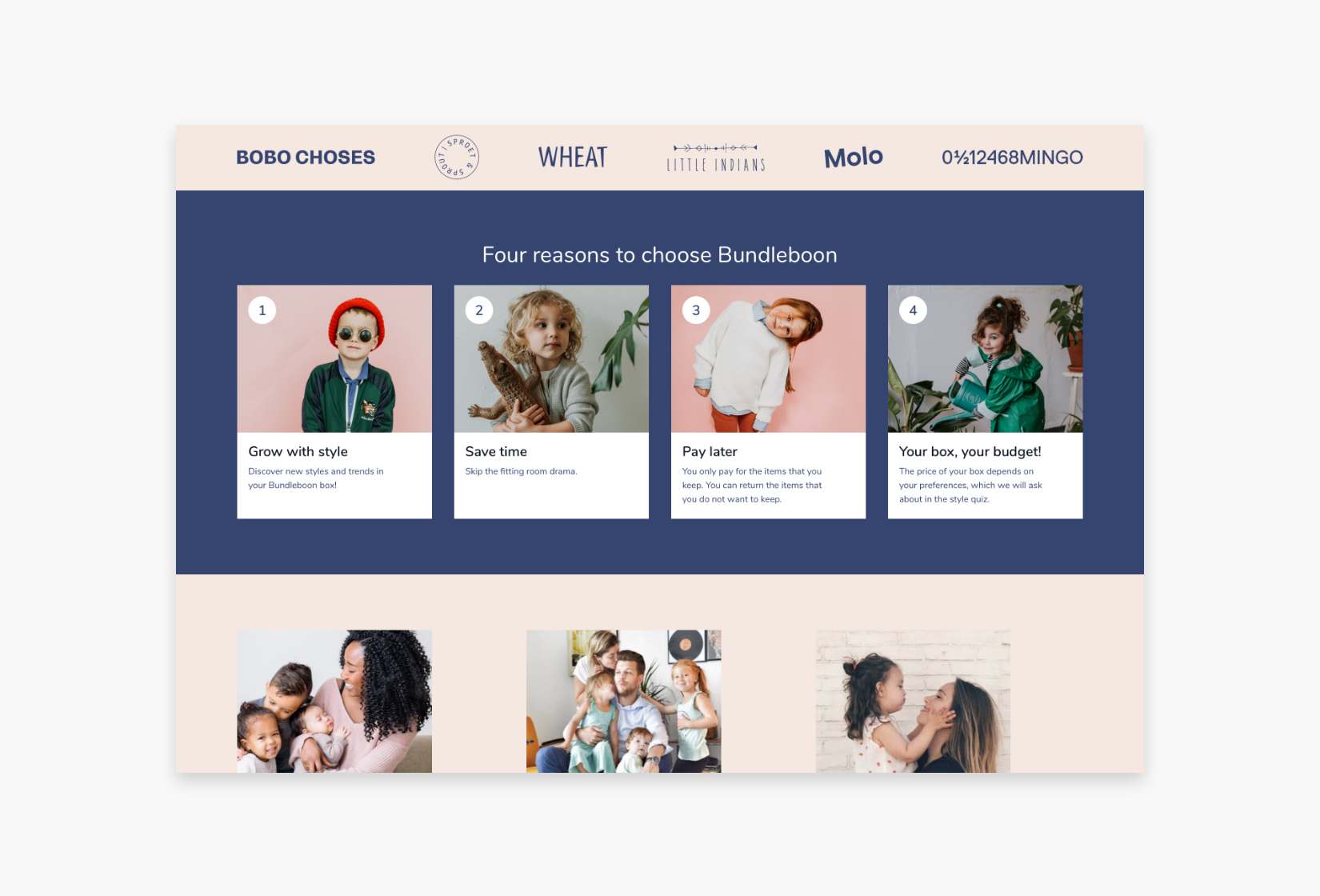 The homepage of Bundleboon features the first question of the quiz, which offers an alluring start to the company's interactive feature. By showcasing the quiz front and center, customers are drawn into completing the style quiz – even if they're only there to explore!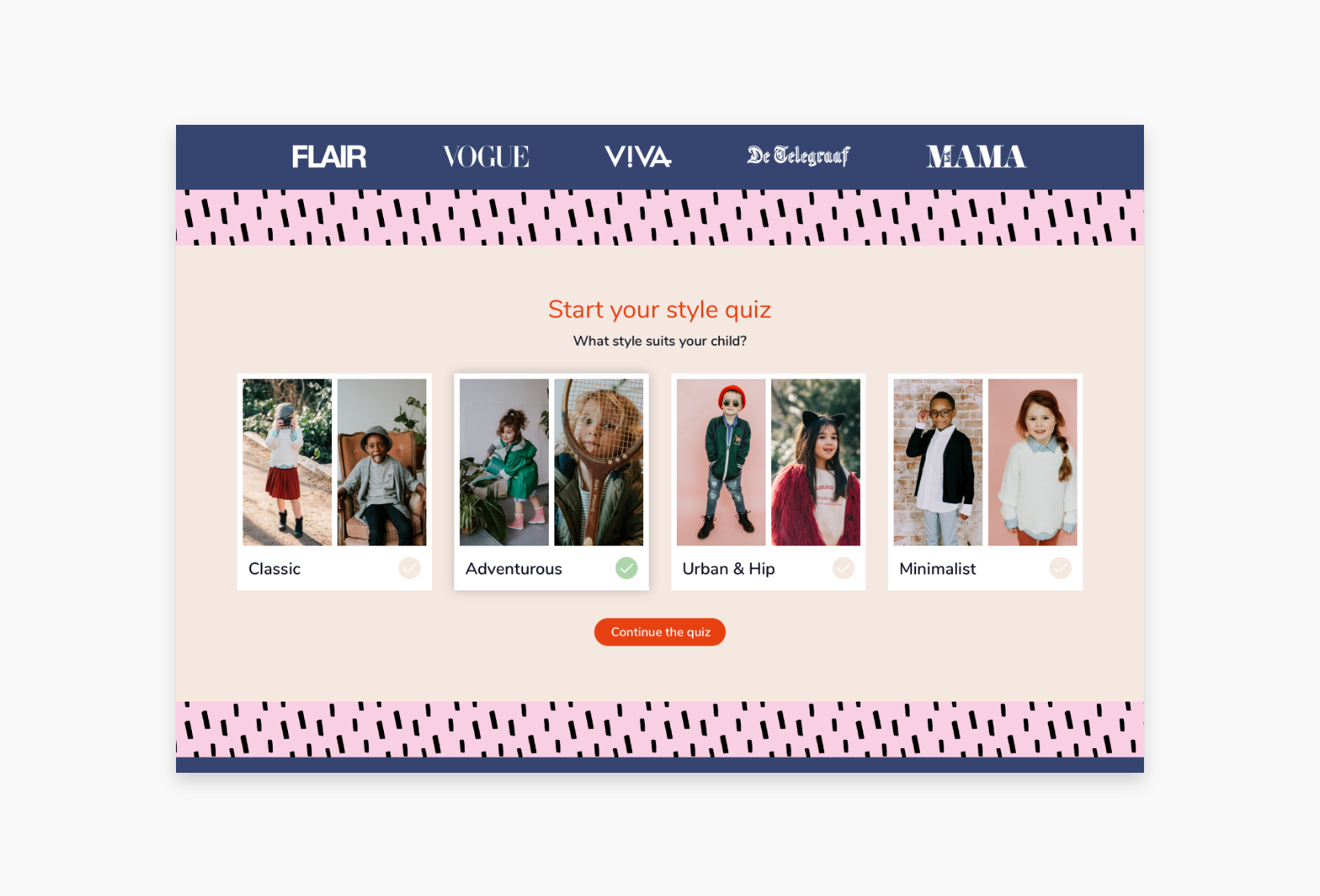 In addition to these custom specialty features, Bundleboon's site has an unmatched seamlessness with responsive web flow that easily adjusts to any browser or screen resolution, complete with customised boxes, drop-down menus, integrated reviews, instantly populated Instagram feeds, and unique hover and active states.
Why Radiant Loves Bundleboon's Shopify Site
Beyond the development that Radiant played a role in, Bundleboon's site is innovative across the board. There are so many features that we at Radiant adore, and here are some of our favorites.
Bundleboon's Design and Color
Bundleboon's visual layout emphasises all that they have to offer, with a playful and fun vibe that proves this company knows that opening gifts is half the fun of receiving them. With each scroll, users are greeted by bright and bold colors contrasted by natural and calming greens, tans, and blues. The homepage is formatted in a singular scroll design style, which draws guests into the site by evoking a childlike sense of curiosity. Each set of clothes displayed offers distinct textiles, materials, and color schemes, demonstrating a sense of style for every child. Best of all, certain key features are kept synchronous across modules, like button color and style, for a semblance of cohesion and togetherness.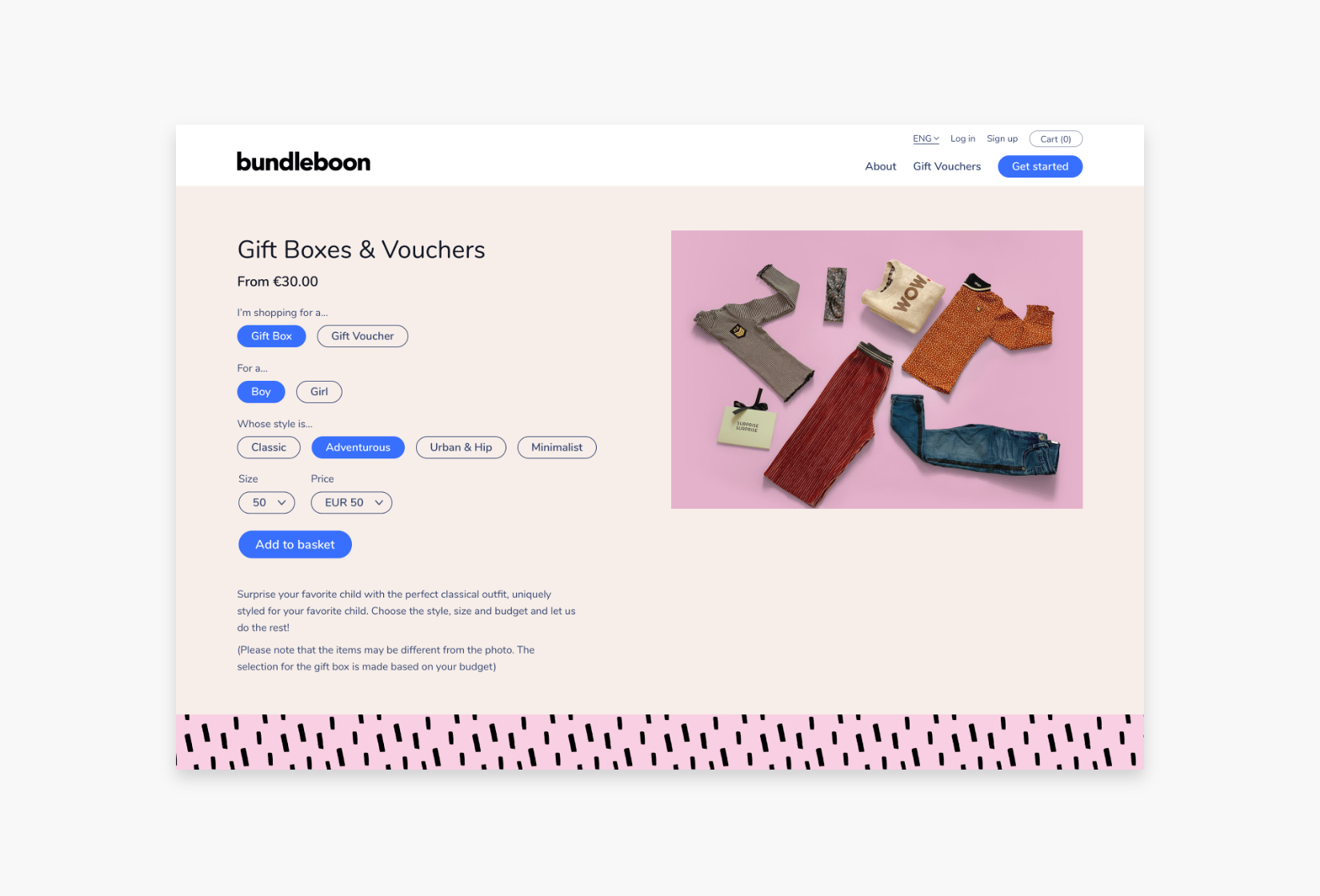 Interactive Effects of Bundleboon's Site
Within Bundleboon's layout are its incredible interactive effects that make visiting the site a pleasure. With parallax scrolling, stop-motion scrolling, animated graphics, and responsive hover states, this site maximises the way a user can connect with the site. Using features such as these begins the Bundleboon adventure virtually. As opposed to waiting for their first box to arrive, customers engage in Bundleboon's one-of-a-kind experience before even purchasing their first product.
Bundleboon's Copy Typography and Tone
Beyond its innate physicalities, Bundleboon's site is complete with stand out typography that complements its playfully-toned copy. The copy uses colloquialisms and casual exclamation points with copy that speaks directly to parents. Everything is straightforward, clear, and concise, providing thorough answers about the products without requiring a lengthy reading time. This is only proven more true through the interactive quiz, where style choices are welcomed with casual responses like, "That's my favorite, too!" to foster a friendly atmosphere.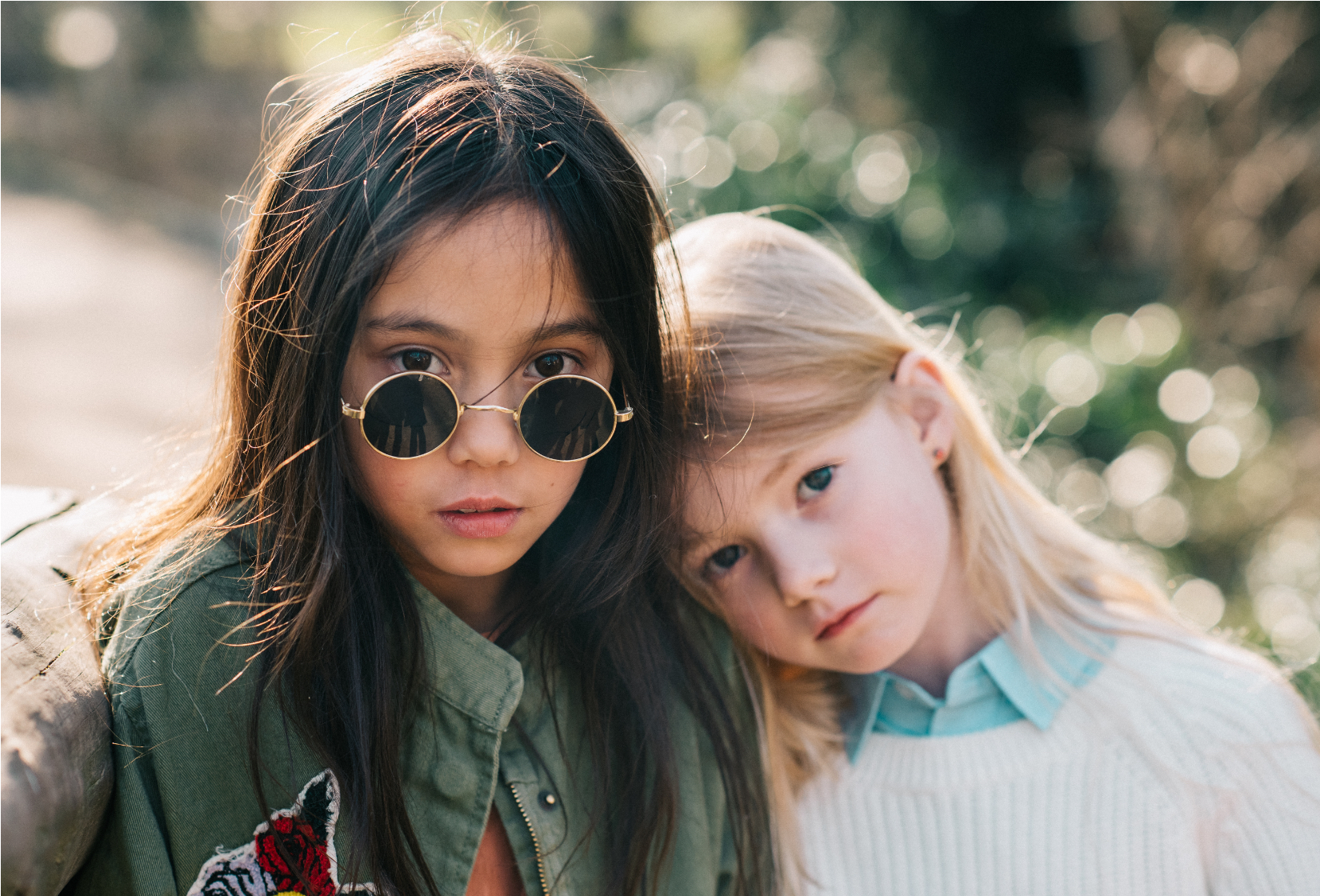 Tune in to Bundleboon's Appearance Dragons' Den
Dragons' Den is a reality television show where entrepreneurs like Bundleboon's Monique Janke and Nelli Jeloudar pitch their business concept to a panel of multimillionaire venture capitalists in hopes of receiving financial investment. In order to appear on Dragons' Den, companies must complete an application process or be approached by the reality program. Being part of the television program requires meeting their strict selection criteria, which includes having a strong idea, solid business plan, and profitable projected turnover. Being a part of the Dragons' Den process is nothing short of an honor, and we at Radiant can't wait to watch Bundleboon shine! You can catch Bundleboon on Dutch Dragons' Den here at 9:25PM CEST this Sunday, April 26th.
Further Reading