Shopify Product Bundling
Product bundling is a crucial marketing practice known by all online sellers. But it's 2019 - ecommerce consumer behaviours are changing and Shopify stores need to keep up.
Product bundling is a crucial marketing practice known by all online sellers. Ecommerce consumer behaviours are changing and Shopify stores need to keep up. Product bundling is when a retailer packages complementary products into a set of items that can be purchased together.
Below, we list 5 product bundling tips that businesses can use to improve sales, how to add bundles on Shopify and the best Shopify bundle app available right now.
No. 1: Personalization is key.
With personalized product recommendations becoming more and more popular in 2019, it is becoming more important for ecommerce stores to deliver tailored user experiences for each individual viewer. According to KPMG, 30% of consumers would rather buy from a website they've bought from previously (a decent likelihood that a lot of them mean Amazon, a platform that fully makes use of personalized product bundles). This means that stores should attempt to match that.
You might benefit from using Shopify apps that uses artificial intelligence for tailored product recommendations, or even by taking a step further and using e-mail automation to improve customer retention and earn more sales.
No. 2: It's all about value.
To achieve really effective product bundling, naturally it would mean that you need to make an irresistible offer that people can't refuse. But this is difficult to do, especially if you're selling something people do not have urgent need for. That is why you should approach product bundling with only one question in mind: how much value would this add? A product bundle of a hat, sunglasses and a dress adds more value than a product bundle of 3 hats.
No. 3: Improve your copy.
It's no longer good enough to simply add a Shopify bundle app, set the title as 'more from this collection' or 'related products' and do nothing else. If your store sells grooming products for men, telling your customer to 'perfect their morning shaving routine with x, y and z' works better than 'get these products!'.
No. 4: Give importance to your product bundles.
Product bundles need not only be visible at the bottom of a product or checkout page - Give your product bundles its own page or blog post! On your home page, It's always a good idea to direct your customers to dedicated 'gift guides' you have written (which can be made for different people, seasons and occasions).
Like we've said in our guide on how to prepare for Black Friday, having a separate well-written post brings more value to the bundle and makes it appear important.
No. 5: Be transparent.
According to the Baymard Institute, over 60% of online shoppers abandon their shopping cart because of unforeseen extra costs. A lot of people will make an effort to take out their phone calculator and look into just how much they'll be saving with a product bundle. Save them time, and be upfront!
Shopify Product Bundling
Shopify Product Bundles are a method of upselling in which multiple individual products are sold as a combined bundle or product through your Shopify store.
Product bundling works better when the cost of buying the bundle is cheaper than buying the individual products separately. You can bundle products in a variety of different ways. This can include upselling which involves getting customers to upgrade to a better, more expensive version of the product they are looking at. Another example is cross-selling and this is when you sell and promote a product that will complement the product that the customer is going to buy such as a coffee machine and the complementary product would be coffee pods. One other example of product bundling is gift with purchase and this is when customers buy specific products, they will receive a free gift.
How to bundle on Shopify
The best and easiest way to bundle your products on Shopify is to install an app on your store which specifically is designed to help you bundle your products. You will want to look for a bundling app that has all the features you may require such as Shopify bundling apps specifically for cross-selling or upselling, or a bundling app that does everything and provides you with all the options you need. There are a variety of different Shopify bundling apps available including both free and paid apps. At the bottom, we have listed a few Shopify product bundling apps recommendations, but before that let's show you how to actually bundle the products on Shopify.
How to bundle products on Shopify
For the purpose of this demo, we have chosen Bundler - Product Bundles Shopify bundling app. Bundler has both a free and paid option. We will be bundling products today with the free version. To get started, we login to our Shopify store then head over to https://apps.shopify.com/ and search for "Bundler" and install the Bundler app.
Once this is all installed and set up we can then get started on creating our first bundle.
If you aren't already there, go to your apps > "Bundler" app, and click on "Create Bundle".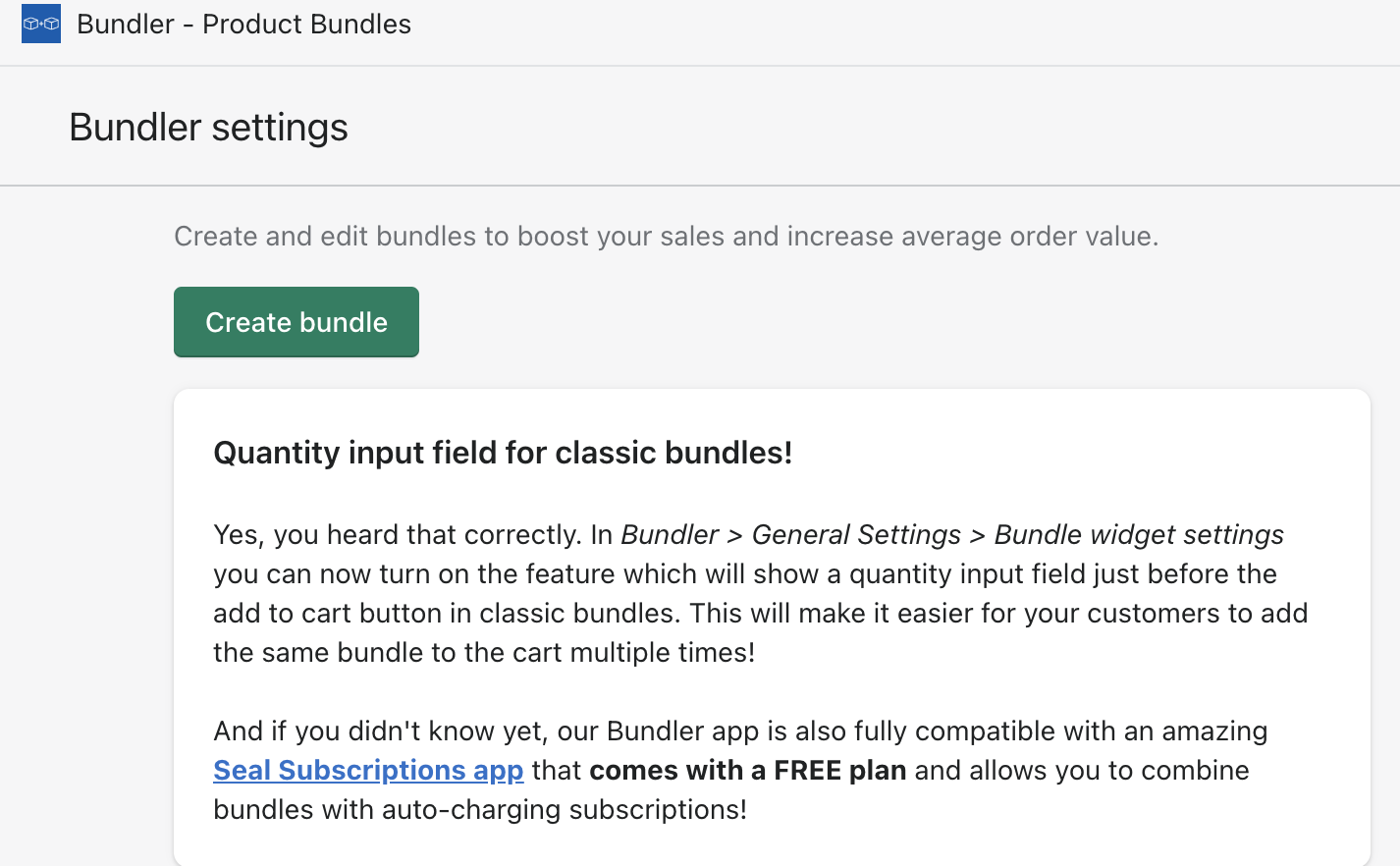 Below you can see we have a few options of the types of bundles that can be created. The classic bundle allows you to set a discount for when customers purchase a specific set of products and that is the one we will go with for today.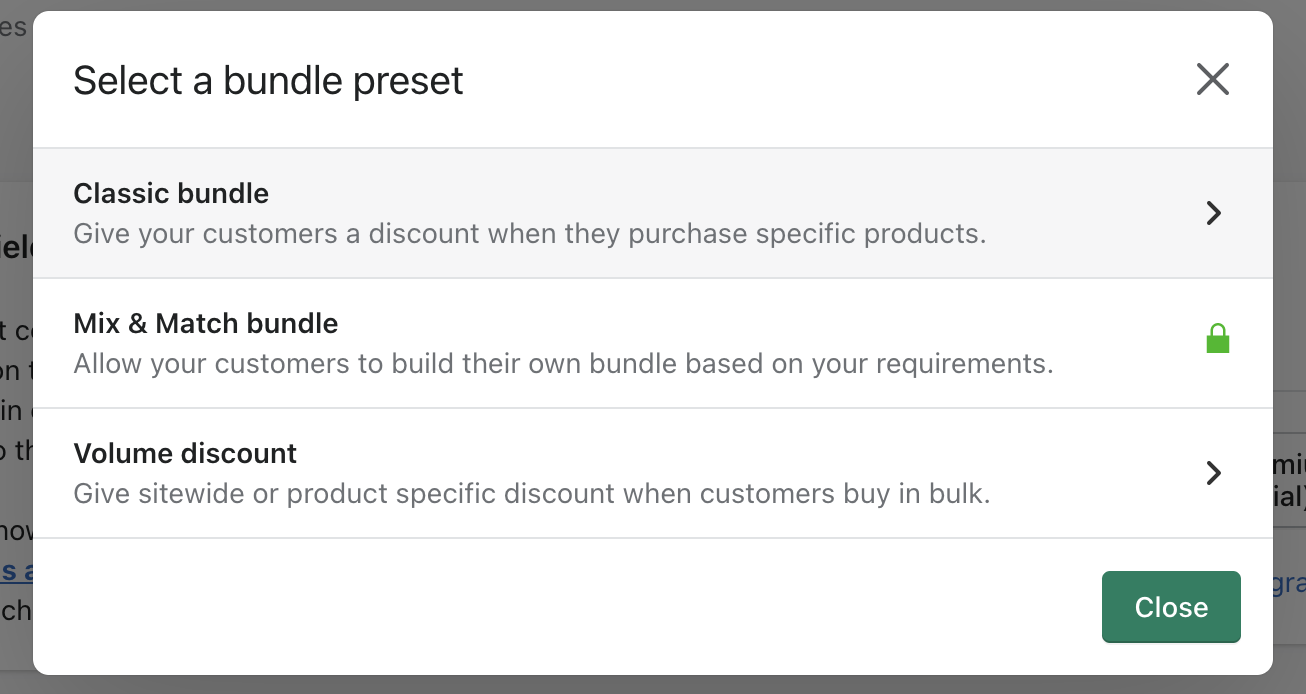 Once you have selected which bundle you want, you will need to fill out the details including the Bundle name, title, description and price summary.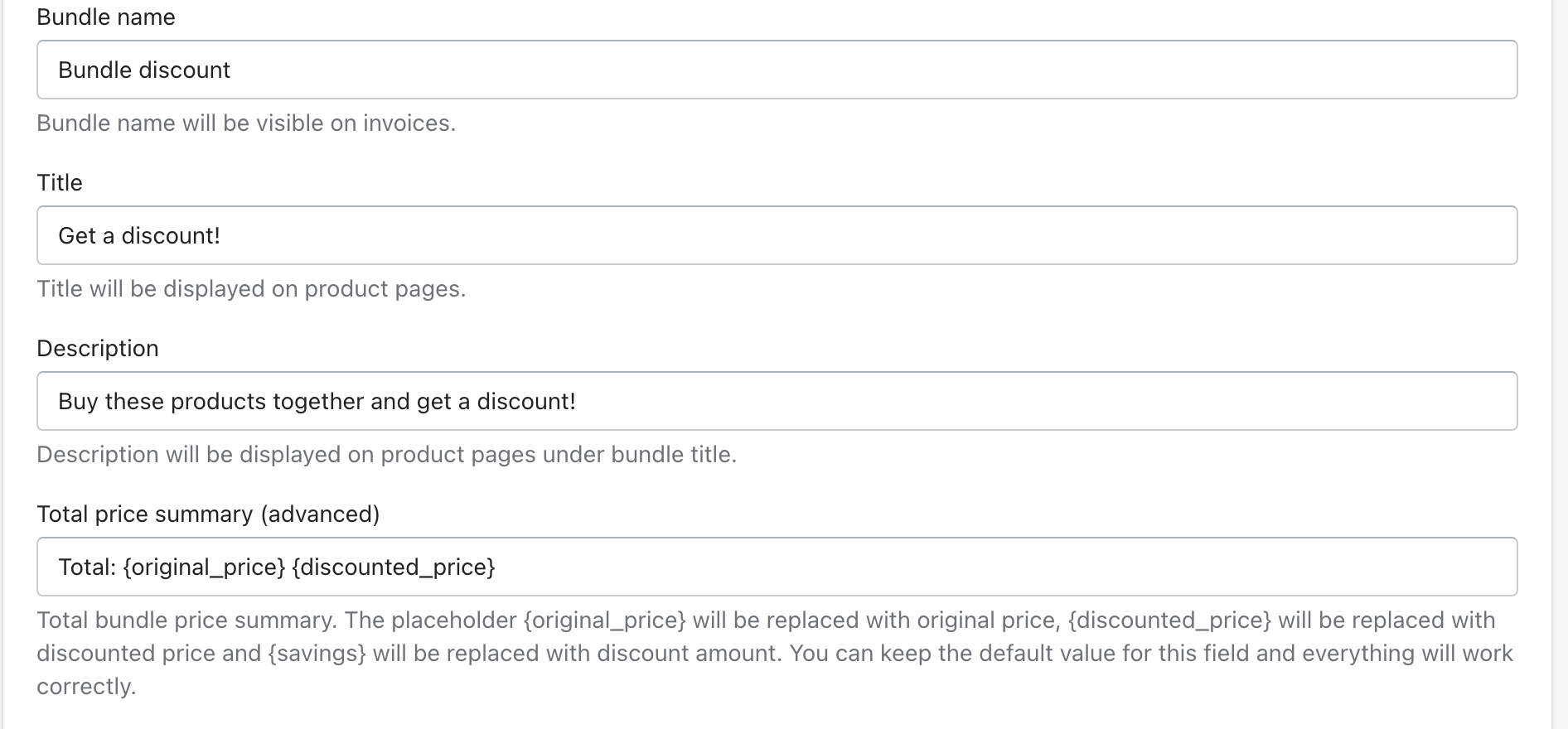 You can personalise a step further and specifically change the call to action button text and any text you want under the call to action button. You will also see that there is something called a "priority sequence", this determines the priority order of bundles and is great if you have multiple product bundles set up.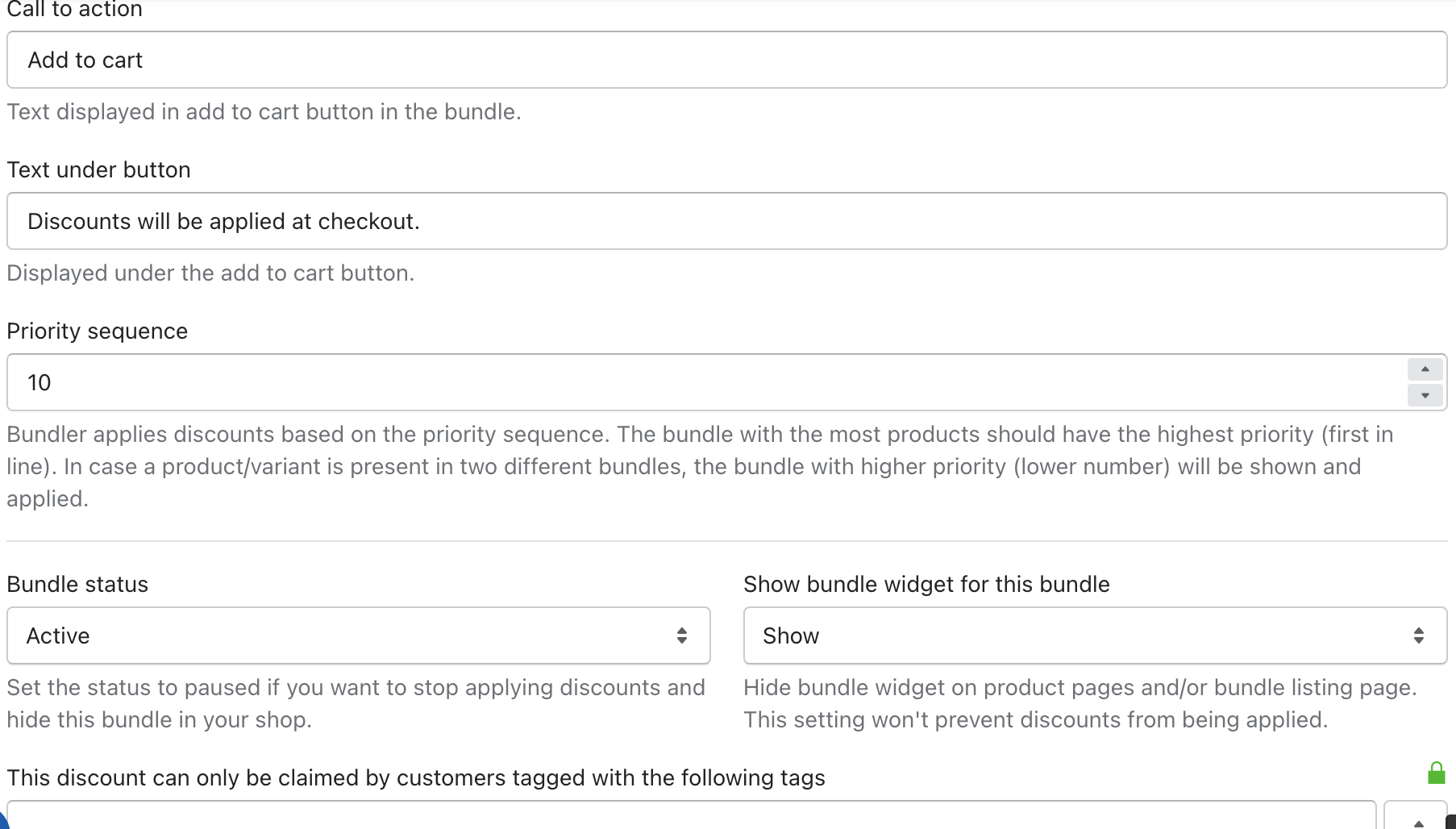 You can also schedule the bundle you have created so if you only want to promote the bundle during a specific time such as seasonal periods like Christmas for example.

Below you can then set how much of discount your customers will be getting and you can choose from percentage discount, fixed amount discount or even an overall fixed bundle price. There is also an option to provide free delivery if customers opt for the bundle.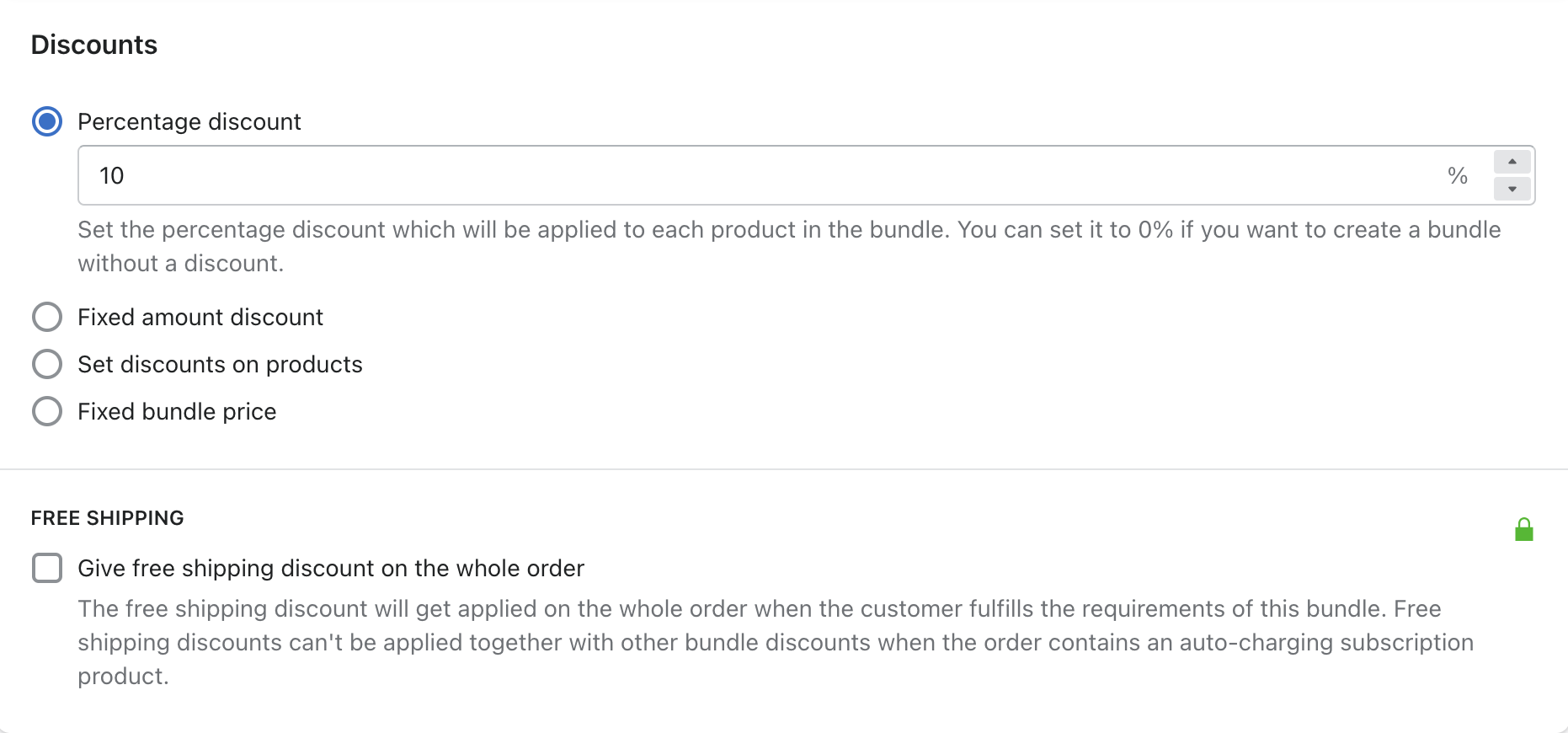 If you have lots of products with many variants, you can also apply the bundle to the different variants and exclude any specific variants that you do not want in the bundle. For example if you a cake that has 3 variants that are flavours (chocolate, vanilla, forest fruit) and you only want the chocolate and vanilla flavours to be allowed as products in a bundle, then you can click on Variant level and then select which flavours are allowed for the bundling.

The next step is to actually add the products you want to create your bundle. Click on select products and then choose all the products that you want in the bundle. Generally, it is a good idea to have between 2-4 products within a bundle as you don't want to overwhelm your customers with too much choice and products.
Below are some advanced discount conditions that you can tinker with such as the discount only gets applied if the customer buys all the products in the bundle or you can create a rule for example that the customer has to buy 2 other non discounted items to be able to get a discount on the bundle.

There is also a space for adding text and information for the landing page content. This is useful if you are planning to use the landing page url.

Once you have configured all of the settings, you can click on "Save bundle". Your new bundle should be active straight away. To check the new bundle you can go to any of the products that are within the bundle and you will see on the product page that there is a new bundle widget with showcasing the new bundle offer you have created.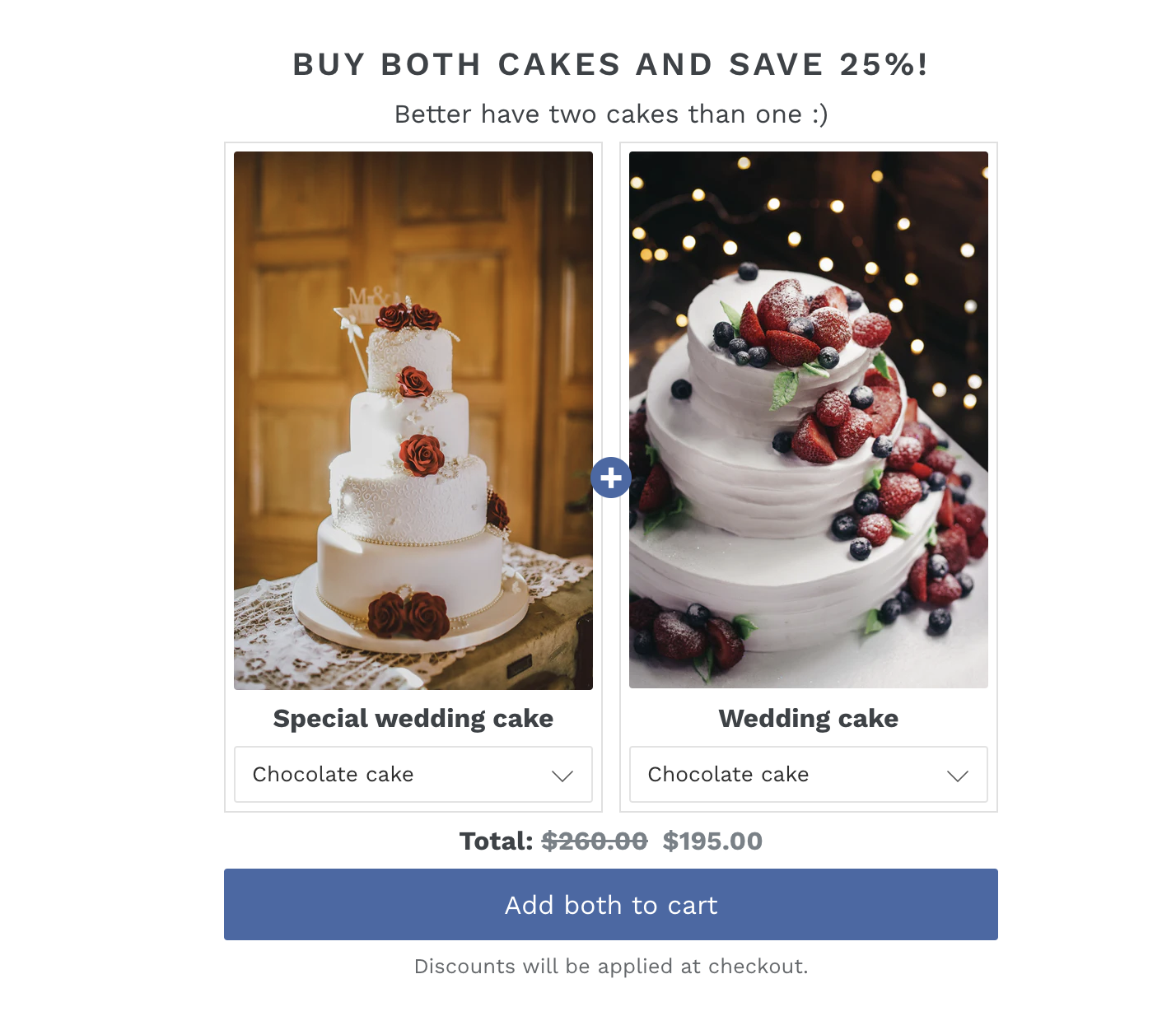 Once you have created your bundle, you will also get a landing page url and a quick checkout url which you can use on your website or other comms.

Shopify bundle apps
Below we have listed a few Shopify product bundling apps so you can see what each app offers and what is more suitable for your Shopify store.
Bundler ‑ Product Bundles
Bundler allows you to easily create product bundles, as demonstrated above. Although most features can be used on the free plan, if you really want complete freedom and customisation then the paid version is something to consider.
Frequently Bought Together
Frequently Bought Together is another great Shopify bundling app that provides you with the tools you need to efficiently create product bundles on your Shopify store. One key benefit of the Frequently Bought Together Shopify bundling app is that it uses an AI algorithm which has been continuously trained for years, is enhanced and polished to drive higher conversion rates.
UFE Cross Sell & Upsell Bundle
Have more cross selling and upselling products? the UFE Cross Sell & Upsell Bundle Shopify app is perfect for when you want to focus more on cross selling and upselling. The UFE Shopify bundling app offers a variety of designs and promises lightning fast loading speeds so you won't have to compromise with performance on your Shopify store.
Further Reading